News.
All the latest information about the
EarthPositive®
brand.
Continental Clothing Wins The Inaugural Climate Week Award.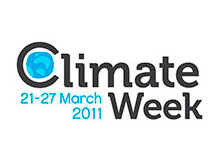 Continental Clothing Company's EarthPositive® Apparel was named Best Initiative by a Small or Medium-Sized Business at the Climate Week Awards on Monday 21st March.
Honoured for their inspiring initiative, the CCC joined the Secretary of State for Energy and Climate Change, other winners, finalists and eminent individuals at the launch of the inaugural Climate Week in London.

Read the press release here!

The EarthPositive Apparel Story Part 1
The EarthPositive Apparel Story Part 2
EarthPositive®

Wins Best Organic Textile Product 2009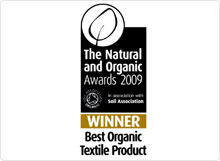 EarthPositive® won the Best Organic Textile Product 2009 at the Natural & Organic Products Annual Industry Awards announced by Jo Fairley - co-founder of Green & Blacks and author of The Beauty Bible.

Winner of the Best Organic Textile Product: Continental Clothing for EarthPositive® cotton clothing.

The EarthPositive® product range was conceived in 2007 with the objective of producing attractive and commercially viable organic cotton casual wear that would maximize positive and minimize negative environmental, social and economic impacts along the supply and value chain. EarthPositive® is ethically made, 100% organic and manufactured solely using sustainable energy generated from wind power.
Jo Fairley commented on the awards, "I was extremely impressed by the high quality of entrants. We hear so much about consumers looking for value but there are also many enlightened shoppers who are looking for products and retailers with values. These winners are a great place for people to start."
Molly Conisbee, Soil Association director of communications, said,"The awards are a fantastic opportunity to celebrate the best in organic products. Although many consumers are tightening their belts it's exciting that organic health & beauty and textile products are increasing sales at such a rapid pace and that there are many organic businesses bucking the recessionary trend."
Five Soil Association Organic Awards were presented to businesses that have helped set the standard for innovation, quality and commitment within the organic industry.

Replanting a rainforest - Sustainable Living in an Open World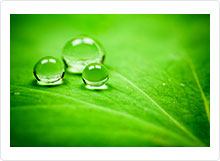 As an official partner in "Replanting a Rainforest" EarthPositive® supports this long term environmental project which is in the northern part of the state of Sao Paulo in Brazil.

Its all about replanting an entire Rain Forrest fauna in order to protect water, vegetation and indigenous animal and to create the biological diversity in cooperation with the local community and environmental organisations.

The project is run by Open World Foundation based in Stockholm with the support of the Brazilian chamber of commerce.

The project begins!
-see the first planting Nov-09

Read more about the project (pdf)

Homepage:
http://www.replantingarainforest.org/