Renewable Energy.
30 wind turbines provide the primary Energy source for Earth Positive.
Wind Powered
The primary energy source for EarthPositive® apparel is thirty massive wind turbines that generate a continuous source of renewable electricity.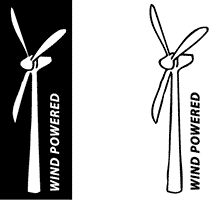 What is Climate Neutral?
Climate Neutral means our industrial greenhouse gas emissions have been reduced to pre-industrial levels through low-impact (low emission) organic agriculture and carbon neutral industrial manufacturing, achieved through substituting energy use from fossil fuel powered power stations
with clean renewable energy from wind turbines and solar power.